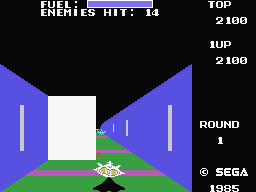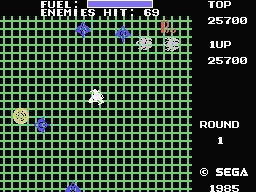 The destiny of your planet rests on your piloting skills!
Alert! Alert! The planet is under attack! Scrambling your Zoom 909 space fighter, you rush to the most sensitive areas of your world, and defend them against the invading alien forces while managing your fuel reserves!
In each area, you must destroy as many enemy ships as you can. Survive long enough and you will move on to the next area. You will travel through dangerous trenches and space tunnels, and then attack the enemy fleet in the hyperspace zone. Your ultimate encounter will be against the massive Command Destroyer, which you must pursue and disable before it can destroy your ship!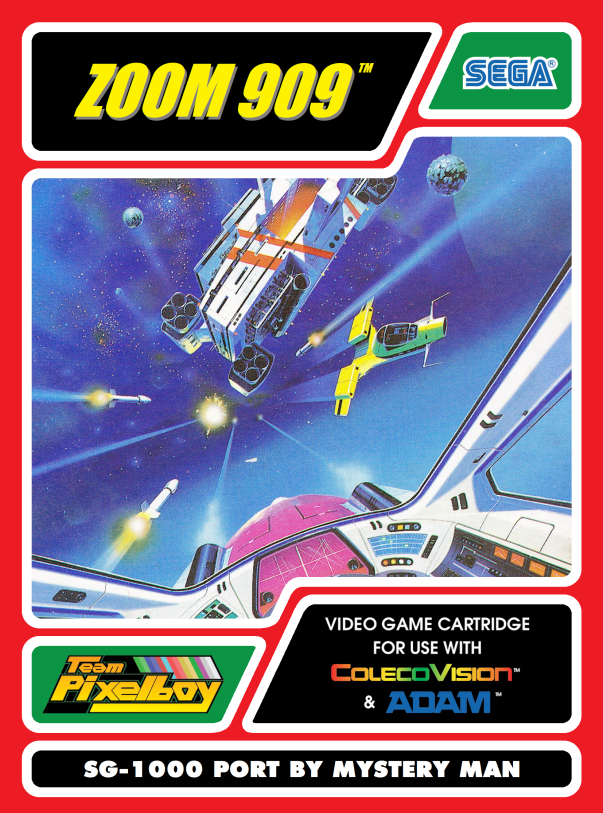 While I was working on the Budget Series project in 2016 and 2017, I decided to add an 18th game to that series, namely Champion Pro Wrestling. This 18th game was kept a secret and was included in the shipping box as a surprise free gift for everyone who ordered 10 or more budget games. In order to release this 18th game as a fully complete-in-box item, I needed more of the custom styrofoam inserts which I had used for the other 17 budget games. The minimum order quantity required by the styrofoam company was rather high, but it got me thinking: Perhaps I could put all those extra inserts to good use.
I talked to Mystery Man about this, and I suggested that he could port 8 different SG-1000 games to the ColecoVision, and that these ports could be sold exclusively via the AtariAge Store, using the same kind of two-piece boxes that were used for the budget series. After reaching an agreement with Albert over at AtariAge, Mystery Man performed the ports, including this port of Zoom 909.
However, after the ports were beta-tested by trusted collaborators, the project stayed mostly in limbo for the following two years, and after finishing the work on a batch of "standard" Team Pixelboy titles in 2019, I decided to revive the project by taking full control of it, and this game (along with the other 8 games of the Mystery Man Collection) was eventually released in February of 2021.
This game was completed and released in 2021.
TEAM PARTICIPANTS
Mystery Man : Software port and beta-testing
Don Switzer : Software beta-testing, assistance with manual
Luc Miron : Box design, game manual, cart label, software beta-testing
Harvey deKleine : Electronic sourcing and assemblies
SPECIAL THANKS:

Tobie St-Aubin, Albert Yarusso and all AtariAge forum members.