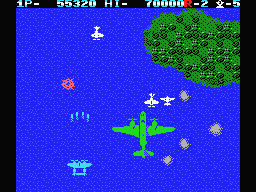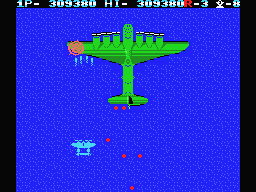 Turn the tide of World War II single-handedly!
The year is 1942, and the war rages on in the Pacific. Intelligence just delivered an important report about the enemy air force gathering in a secret location, and now is the perfect time to launch a surprise attack to try to inflict maximum damage on the enemy's military forces.
However, to maintain the element of surprise, you will be carrying out this daring mission alone, in your Lockheed P-38 Lightning fighter plane. Your aircraft carrier will take you as close as possible, and from there, you'll have to pilot your plane skillfully as you destroy squadrons of enemy planes of all sizes in an epic non-stop dogfight. Land periodically on your aircraft carrier to refuel and take to the skies again to continue your mission.
Can you survive long enough to make a significant dent in the enemy forces, and help your homeland win the war?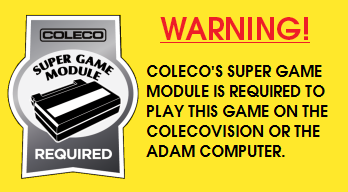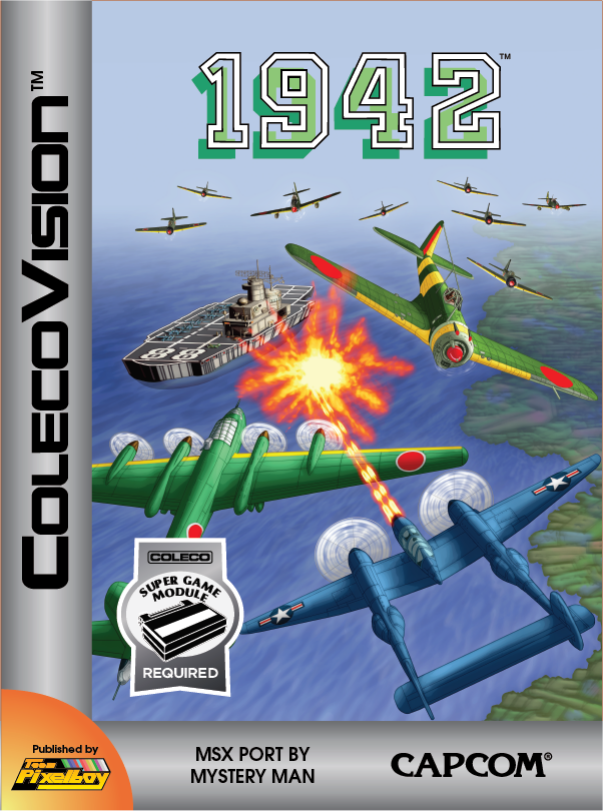 Over the spring and summer of 2017, I ran a poll on the AtariAge forums (and also via e-mail) to help me decide which game I should publish next. 1942 was among the choices, and at the time I closed the poll, it came in first place.
Many months later, I reached an agreement with Mystery Man to eventually port the MSX version of 1942 to the ColecoVision, and as part of that agreement, Mystery Man fixed one of the most glaring problems with the MSX original, which you probably noticed if you ever played it: The background music gets overriden by the sound effect of your plane's guns, so if you keep shooting continuously, the sound output becomes a mostly garbled mess. With the Super Game Module offering three additional sound channels, it's used for the background music, while the ColecoVision's native sound chip handles the sound effects. Aside from this important technical update, the game remains the same as the MSX version.
This game was completed and released in 2020.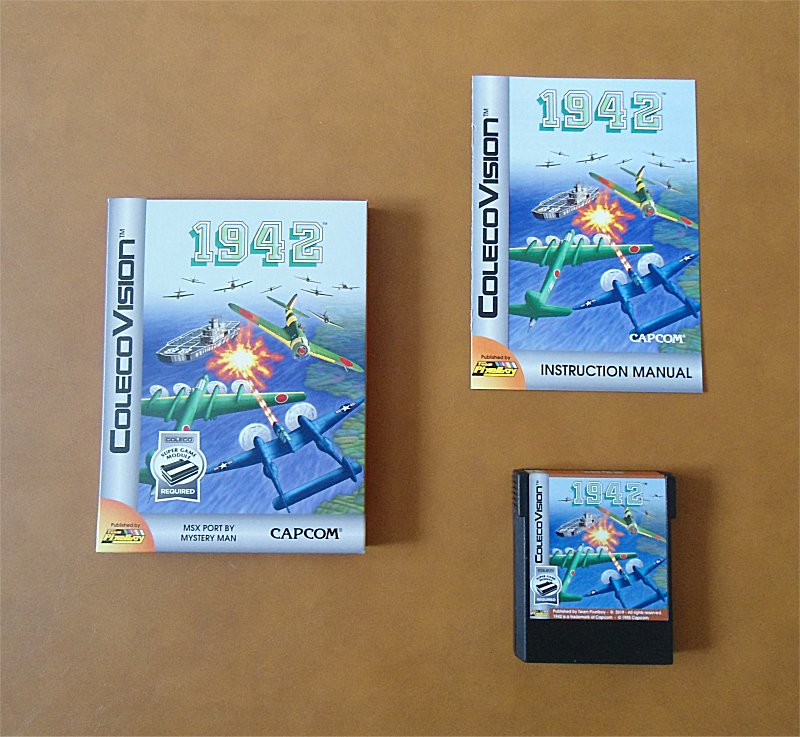 TEAM PARTICIPANTS
Mystery Man : Software port and beta-testing
Brian Klug : Software beta-testing
Garrett Gilchrist : Box art
Luc Miron: Box design, game manual, cart label, software beta-testing
Dale Crum / Doc4 : Game manual layout (www.doc4design.com)
Oliver Puschatzki : Box printing services
Harvey deKleine : Electronic sourcing and assemblies
SPECIAL THANKS:

Albert Yarusso, Tobie St-Aubin and all AtariAge forum members.