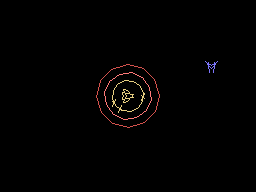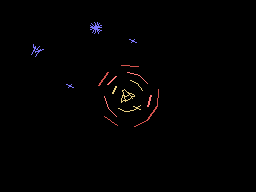 Destroy the Star Castles!
The alien armada has deployed automated outposts around our solar system, as a prelude to a full-scale invasion. Space Command has dispatched you to destroy these outposts, but this is easier said than done: There fortresses are surrounded by energy shields and guarded by space mines. Watch out for the energy cannon that can destroy your ship in an instant!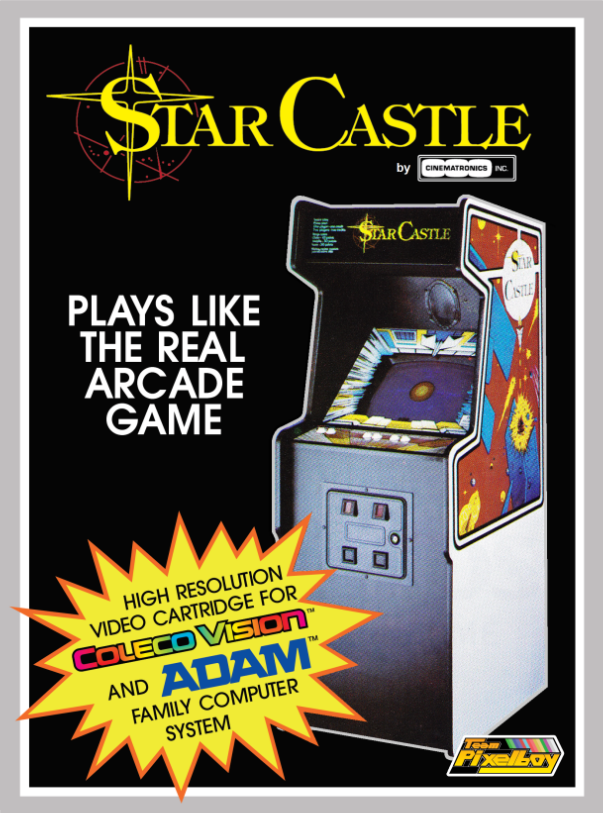 While I was preparing the design document of Asteroids (which Mystery Man used to code the game to my specifications) during the spring of 2020, I started working on Star Castle on the side, as an off-the-record project. The idea was that once Mystery Man has finished working on Asteroids, he could perhaps reuse some of the code from Asteroids in a ColecoVision version of Star Castle.
When I stumbled upon a promotional flyer for the arcade game, I decided to purchase it and create the box template, and in parallel, I asked Mystery Man to commit to the Star Castle project, which he did, and so the game will be programmed some time in 2021.
LAST UPDATE: January 1st 2021
Programming of this game will be handled by Mystery Man.
| | |
| --- | --- |
| Software | No work done so far. |
| Box | Boxes has been printed. |
| Manual | No work done so far. |
| Cartridge Casing | The game will be offered in standard Coleco cartridge casings. |
| Cartridge Label | No work done so far. |
| Completion Status | 10% |