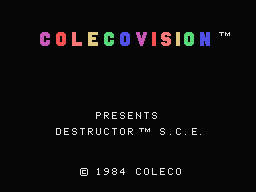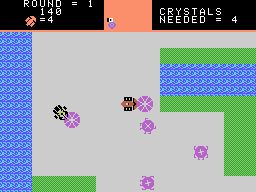 A gem-collecting quest that's out of this world!
Your starcruiser lands in the hostile alien city of Araknid to collect precious Crystals needed desperately on Earth. Your equipment: the mighty Ram-car. Use your Ram-car to bump Krystaloids, transforming them into precious Crystals! But watch out for the evil Destructor and deadly Insektoids, protectors of the Krystaloids! Can you collect the invaluable jewel-like Crystals and fly home?
WARNING: This game is NOT compatible with Coleco's Expansion Module #2 (a.k.a. the steering wheel module). For use with regular joystick controllers only.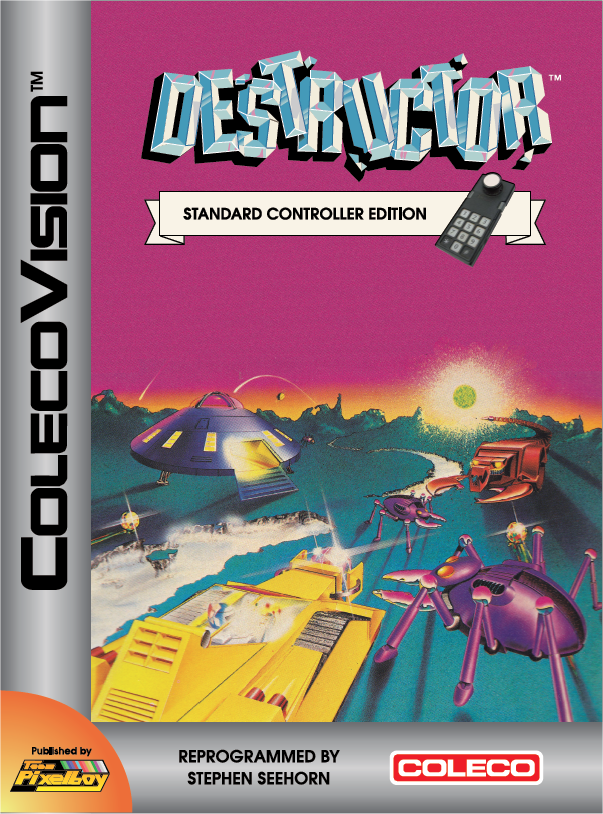 Destructor doesn't have a very good reputation among ColecoVision fans. The game requires the Expansion Module #2 (a.k.a. the steering wheel controller), and the few that managed to play with it back in the eighties either loved it or hated it. Personally, I really liked the game, despite its blatant design flaws, and I played it for hours at a time. My favorite activity was to explore the large island map and look for Destructor's eggs. This was the only reason I needed to venture far away from the cargo ship, and finding some transporter pads during these treks was always fun too, especially when Destructor was hot on my tail.
Most ColecoVision emulators today do not support the steering wheel controller, and the few that do (like AdamEm under DosBox) are not likely to help earn Destructor any new fans. After seing repeated requests on the AtariAge forums to have the Destructor ROM modified to support the standard ColecoVision controller, I decided to take it upon myself to get it done. I'm willing to bet more people would enjoy Destructor with "traditional" controls.
During the summer of 2010, Daniel Bienvenu hacked the original Destructor ROM to support regular controllers, but for ethical reasons, he didn't feel comfortable about having it published on cartridge. The hack also didn't match the contract specifications that I had outlined on the Team Pixelboy web site. Luckily, I was able to convince Stephen Seehorn to tackle the project, and thanks to Daniel's notes which he posted on the AtariAge forums, Stephen got it done within a few short weeks, in August 2010. From there, the rest (boxes, manuals, carts) is history. :-)
This game was completed and released in 2010.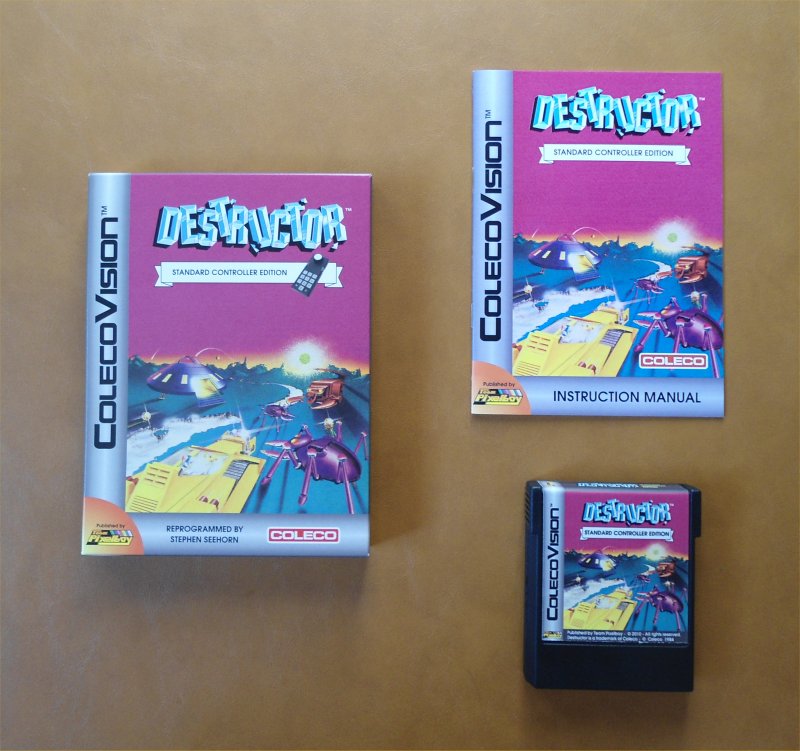 TEAM PARTICIPANTS
Stephen Seehorn : Game reprogramming and beta-testing
Luc Miron : Box design, game manual, cart label, software beta-testing
Dale Crum / Doc4 : Game manual layout (www.doc4design.com)
Oliver Puschatzki : Box printing services
Harvey deKleine : Electronic sourcing and assemblies
SPECIAL THANKS:

Daniel Bienvenu, and all AtariAge forum members.